Industry Insights
3 Reasons to Question the "Retail Apocalypse"
---
I'm tired. I feel constantly bombarded with headlines about the impending doom of brick and mortar retail. There are undeniable trends in retail closings, but they don't tell the whole picture. I've come across many who talk about how retail is reorganizing, not failing completely. Many retailers are thriving by finding creative ways to ensure retail excellence. I'm sharing some resources that help present a more holistic view of everything that's happening today in retail.
Everyone loves a catchy headline – especially a negative one. No one can argue that Sam's Club, Toys R' Us, Gymboree, Sears, Kmart and Macy's are closing hundreds of stores, and it seems healthy to put that trend into perspective.
Even as some experts warn of doom and gloom for the retail sector, there are as many, if not more experts predicting thousands of new store openings; Business Insider predicts Dollar General will open as many as 900 stores this year. The combination of retailers like Dollar General with others like Aldi, Family Dollar, Five Below and Dollar Tree are predicted to add over 2,000 stores in 2018. These are just a handful of companies that have found their path to retail excellence.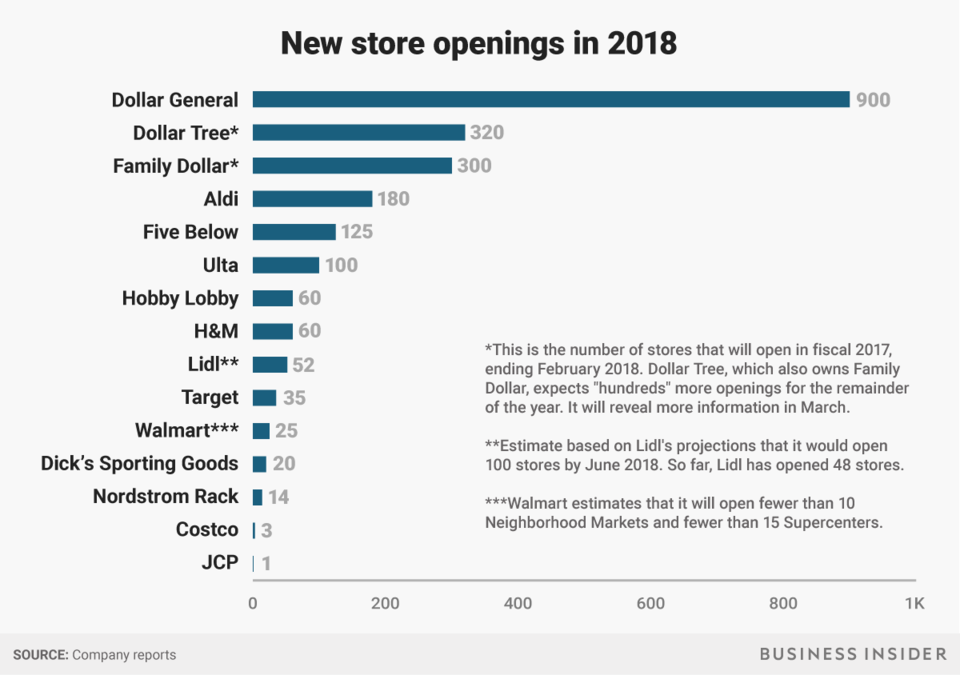 "2017 was the year of retail's existential reckoning"
Some predicted 2017 to be the "Great Retail Apocalypse," and Quartz offers us some grounding information on what happened in 2017, when many long-struggling stores fell during an undeniable culling.

Yet, many retailers, such as Nike, Ulta, Sephora, Adidas and Coach, all thrived at retail in 2017. How have these brands found retail excellence? Earlier this year in Forbes, Steve Dennis stated
"Stores serve as an important—and often low cost—channel to acquire new customers. Stores serve as showrooms that drive customers online. Stores serve as fulfillment points for e-commerce operations. Stores are billboards for a retail brand," he wrote. "In a store, you can touch and interact with products—and brands—in ways you simply can't online. That's why Warby Parker and Everlane have found themselves in the brick-and-mortar business after all."

Physical Retail Is Not Dead: Boring Retail Is

When Forbes talks, people listen. While the growth of online sales has continued to outpace the growth rate of brick and mortar, other promising statistics exist. In 2017, physical store openings actually grew by more than 50% year over year.

"But, to be sure, boring, undifferentiated, irrelevant and unremarkable stores are most definitely dead, dying or moving perilously close to the edge of the precipice."

At Movista, we serve all stakeholders in the brick and mortar retail space. We're often asked if the "retail apocalypse" impacts our business. It most definitely impacts us, but not in the way you might think. The number of requests for meetings has actually increased, as retailers get serious about investing in automation and employee enablement as a path towards retail excellence.
Movista LLC is a Software as a Service Company, founded in Bentonville, Arkansas by Stan Zylowski and April Seggebruch in 2010. Based on their personal experience in the field, they had a vision to revolutionize the way teams worked together, as well as how leadership could manage those teams more seamlessly.
Today, we're rapidly expanding our team nationwide, and proudly serve many of the world's best retailers, brands and service organizations. Whether you have 200 users or 20,000, our software is scalable to your business. We work with all sizes of teams and have a passion for customer service. We are committed to ensuring that you're pleased with the level of service you receive – and if we don't know the answer to your issue, we will find it.
Tags: field execution, field management, retail, retail operations, workforce management