If you ever played with a boomerang as a kid, you know that when you throw it, it comes right back to you. So what are boomerang employees? Boomerang employees are employees who work for a company, quit, and then come back to work for the company again at some point. Today, there is a rise of boomerang employees at workplaces nationwide. A Workplace Trends survey shows that almost half of the millennials surveyed said they would consider returning to a former employer — compared to one-third of both Gen Xers and Baby Boomers. So why do former employees come back? Why are boomerang employees good? How can YOU recruit boomerangs? Let's dive in ... I'll answer these questions as well as provide some first-hand intel from some of our own boomerang employees here at Movista.
Why do Boomerang Employees Return?
There are a few reasons why former employees may return to their job. Sometimes it is just a natural fit; they already know the culture and understand what they have to do. Sometimes just the pure knowledge of already knowing the people and the business is enough to bring people back. Another reason that boomerang employees are rising today is because of social media. Social media has allowed alumni to stay connected to the business through platforms like LinkedIn and Facebook.
Chris, a salesman here at Movista sat down with me to discuss his boomerang experience. Chris worked at Movista for 3 years before leaving to accept another job. In 2018, Chris accepted our offer to come back to Movista to work in the same role. Chris said the reason he returned was because it seemed like a good fit and he always enjoyed the family culture of Movista and being a part of the success of the business.
Why are Boomerang Employees Good for Business?
There are many reasons why boomerang employees are good for your business. First, onboarding someone you have previously hired makes a much less stressful process for your HR department, in addition to being cost-effective. Companies can cut costs by up to 50 percent per hire by employing a boomerang over a typical applicant. Since they have already worked there, you know how they will fit and what you can expect from them. Rehires are 40% more productive in their first quarter at work; and they tend to stay in the job longer. Also, hiring former employees can help with your recruiting and retention by proving that you have a great place to work—people come back even after they left.
Chris said that he liked being a boomerang employee because he was able to step back into his role with all the institutional knowledge he needed to be successful in his role when he returned. These people are capitals of knowledge and can be an invaluable asset and addition (or re-addition) to your business.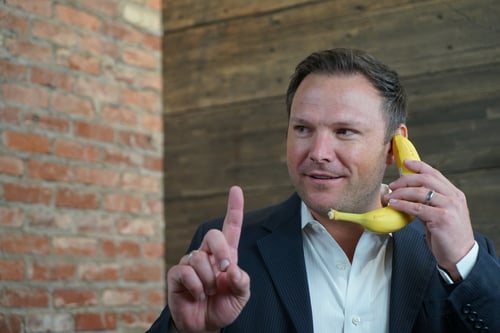 Chris Brandon, Photo credit: Jennifer Mabie
How YOU Can Recruit Boomerangs:
There are many things that your business can do to start recruiting boomerang employees. The first step is maintaining good relationships with ex-employees. In all likelihood, these employees will become brand influencers and speak about your brand to their colleagues, family, and friends. By keeping a positive relationship you can make sure that your former employees are spreading encouraging messages about you and your business. Another way to recruit boomerang employees is by setting up an alumni program. As a business, if you can provide a platform where former employees can connect, chat, and stay associated with the company, your former employees will be more likely to reach out about new job opportunities or special events happening within your company.
Chris said he has always had a positive experience with Movista. It is the relationship with the company and its owners that brought him back.
76% of managers say they're open to hiring former employees. Clearly, boomerang employees are on the rise. They can be great for business, and save you time and money. Ensuring that you have proper relationships with your ex-employees is the first step to getting those great workers you loved back!
Having happy employees is critical for taking on the future of retail. Read more about the retail non-apocalypse.