Movista News + Culture
Lessons Learned From Our Interns

As the school year wraps up, our two high school interns took time to reflect on their semesters spent at Movista. Whether you're interested in an internship at Movista or you just want to know more about how we live our values-- grab the tissues & enjoy.

As a high school senior, I get a lot of questions from parents and teachers: "Where are you going to college?" or "Are you sad you're leaving?" But I would say, one of the most fun questions I've had to answer is "What was your favorite part of high school (or your life up until now)?"
It's a hard question, but my favorite part was my internship at Movista. Honestly, to a lot of people it's a strange answer – why an internship, when I can say my 16th birthday or my orchestra trip to Florida? My answer to that is simple: I learned what it means to really contribute, work and play. Although my time was short (or at least felt short), I've had so many "wow," "I messed up" and "that's so freaking cool" moments, I've lost count.
I came to Movista as a part of Ignite Professional Studies, a career preparation program in the Bentonville School District. My job was to help the Product Team work on User Interface and User Experience Design and also, to create a project of my own. I have three takeaways from my internship that I'd like to share for those who are curious, for those who possibly come after me and for those who are making sure I was productive (I was, I promise!):
There is such thing as "work hard, play hard"
Up until now, playing and working were two separate things for me. In fact, playing was an activity you did after doing ALL your work. At Movista that's totally untrue. My co-workers and teammates showed me that having fun during work is a great method for stress relief and for thinking up brilliant ideas! It also doesn't hurt to let loose; it would be a gloomy place if everyone was so serious all the time.
Never assume your user knows anything about what you're talking about
This is a bit more specific to my internship, but it's true. I really love UI/UX, but every time I talk about it to my friends, I always get the "What is that?" I've realized that a lot of people don't know what we, as UI/UX designers do, or what that acronym even stands for. I learned this also applies to user testing or presenting a design to a client – you have to explain everything as if the recipient knows nothing. That way, they get a full understanding of how your design is supposed to work, and you get a good handle on the functionality and logic of the design (and you can catch mistakes before something bad happens).
Failure is amazing
No seriously, I've failed so many times in making good designs—it's insane. But I've learned there's no such thing as the "final" or the "perfect" design. I've adapted and I've learned how to keep track of all the iterations of designs I've made, so I can see progress and learn from some of the design flaws that I've encountered.
To everyone on my team and to everyone at Movista – thank you so much for making my senior year one of laughs and smiles. I'll never forget all that I've learned and I hope all of you have wonderful days ahead of you!
Arthi Krishna
Columbia University bound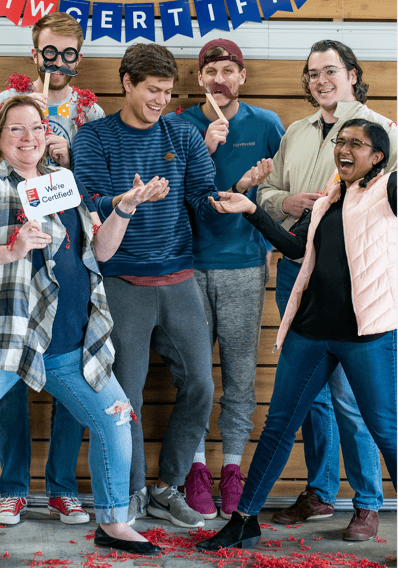 ---
I cannot believe my time at Movista is coming to an end. It has been a fun seven months. I started off as a scared little high school kid who had no idea what she was getting herself into, and now I'm ready to face the world because after Movista nothing can stop me.
The Coolness at the Ice House
During my first semester of senior year, I started at Movista as the HR (or in startup terms, "People and Policy") intern, and I was so scared. Not even an hour into my first day I had a meeting with the co-founders of the company, Stan and April, where Stan (an avid Alabama fan) gave me a hard time for my Big Ten-centric college choices. After that meeting I realized I had a super fun internship ahead of me, and I felt welcomed.
What I Did at Movista (In Addition to All of the Snacking)
From the outside, Movista looks like a fun place where everyone eats all day. That's true, but people work hard, too! As the HR intern, I was always busy. I organized company files, created and worked through spreadsheets, and I completed a large employee benefits project during the company's acquisition of a competitor. It was a lot of fun to be doing a job that combined business and psychology into one—I would always call our HR director the psychologist of the office. Once the second semester rolled around, I became the Marketing team intern! There is never a dull moment with that team. I organized the company's CRM, compiled mailing lists, helped build gift baskets for leads and even designed a couple of Instagram and Snapchat filters.
My Advice
I was halfway through my final semester of high school when the coronavirus pandemic hit.
Everything was canceled; prom, graduation, track competitions—plus, my internship became a "working from home" opportunity. Even though big moments from my high school experience were gone, it was nice to know my Movista family was still there for me.
If you're hoping to be an intern at Movista: you are going to have so much fun! The Ice House is never boring so let me give you a few tips to find your way through the craziness. First: the Movista is the coolest office in town, no pun intended! That office gets freezing, so bring a jacket or a blanket. Second: the kitchen is always stocked, but if you bring Chick-fil-a to work with you, it's a very easy way to make friends. Finally, the only piece of advice that matters is: be yourself and enjoy it. The internship flies by and truth be told, I miss everyone already. Now, young Padawan, you are going to have to figure the rest out on your own.
I am truly going to miss everyone at Movista and I'm so grateful for the time we spent together, even though it got cut short.
Go Buckeyes,
Megan Martin
Ohio State University bound