Retail Excellence
Your Guide To Creating Next-Gen Retail Planograms

In an increasingly competitive retail world, it's essential to gain an edge. In-store displays are one of the single best ways to place products right in front of customers. Displays that are organized, informative, and eye-catching please consumers and impact sales. Unfortunately, executing a jaw-dropping visual display is more like assembling Swedish furniture. That's why next-gen retail planograms are shaking up the scene. And why they need to be part of every retail planogram strategy.
How to set up a planogram that works
A retail, or visual merchandising, planogram is a drawing or visual diagram that details the exact placement of every item in a store display.
For retail stores, a visual merchandising planogram paves the way for maximized sales and greater brand awareness. From the conception of a strategy to final in-store setup, a retail planogram also keeps all teams on the same page.
Teams that know how to deliver next-gen planograms have mastered the basics and know how to set up a planogram that makes an impact. They consider these best practices when designing.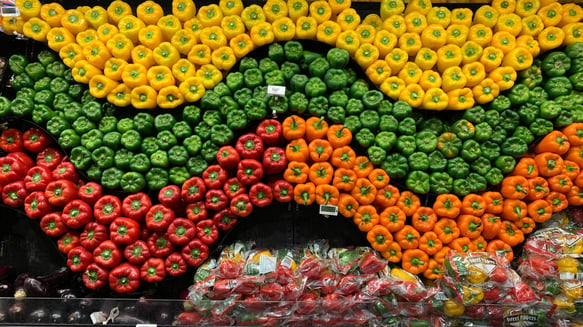 Start simple
While it's easy to get carried away, it's better to strive for simplicity. We know an elaborate and over-the-top retail planogram can be tempting, but it's also time consuming to create.
As other areas of business get busy, a complex plan may reduce the likelihood of sticking with this method month after month. Teams must be able to quickly execute a vision in every store. Therefore, it's typically best to keep a retail planogram simple, clear, and user-friendly.
Train your team
On that note, training is imperative. Store or brand leaders can't just send a team out with a retail planogram and assume they know what to do. If time is taken to explain how to read a planogram, then teams are prepared to execute the plan with precision.
This training should include the most senior team members as it gets everyone on the same page with specific guidelines.
Do the consumer research
Consumer behavior is always changing, and it's important to have a target audience in mind when designing a visual merchandising planogram.
Does a product lend itself to a lot of interaction? Maybe it has varying product sizes that must be prioritized according to profitability? Doing research and designing for the now, versus what worked three years ago, will help to deliver a retail planogram strategy that works.
Measure performance
The other side of research is reporting. Looking at the outcome with a critical eye informs retail teams on whether a visual strategy is making a difference and leading to increased sales.
This consistent analysis is one of the best ways to stay on top of the game and ensure displays are working. If the numbers tell a sad story, go back to the drawing board (literally).

[Quick tip] Shoppers want a product that is at eye level, making it easy to touch, feel, and interact with. Design retail planograms around these parameters to increase the likelihood of making a sale.
How next-gen retail planograms are revolutionizing merchandising
As mentioned above, retail planograms can sometimes be as painful as putting together Swedish furniture. That's how field reps often feel when working with traditional planograms. They can be overly complicated and difficult to complete, which may lead to display setup mishaps.
The solve? Next-gen retail planograms. The next-gen retail planogram has revolutionized in-store work and has replaced dated paper processes. Preferred by leading retail teams across industries, here are the characteristics of next-gen retail planograms.
They're interactive
Instead of handing field reps a piece of paper with an overwhelming amount of visual information on it, next-gen retail planograms are digitally interactive.
With solutions like Movista, a retail planogram is delivered within a mobile app that is interactive and instructional. Traditional planogram instructions are broken up into sections, questions, and visual examples.
With built-in surveys, field reps can click through step-by-step setup instructions. Custom question-based prompts like "Did you place X number of boxes on the shelf?" and "Are all product labels facing forward?" help team members ensure they didn't miss a step.
What's even more impressive is photo verification technology. Field reps can snap photos of finished displays within the app and submit for review. Doing so streamlines the retail audit process and makes it easier than ever to deliver accurate merchandising compliance results. To further enhance accuracy, photos are tagged with time, date, location, and other metadata to flag falsified submissions.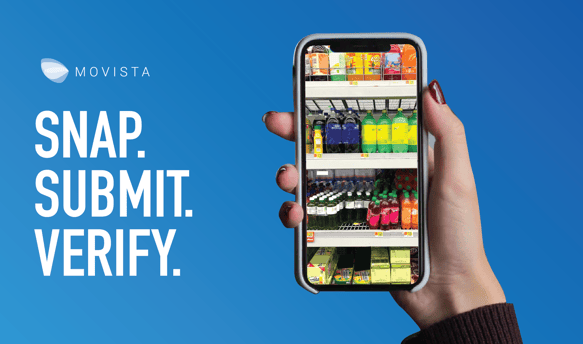 They're real-time
Waiting to receive information to execute or review is a waste of time when retail moves so quickly. That's why next-gen retail planograms are centered around real-time data when it comes to the flow of information.
For example, when a team member submits display setup photos, they are viewable immediately to their manager. No email required. This feature is brought to life in Movista. With real-time access to information, teams can check display setups as they come in or review all submissions at once for a quick QA screen.
They're integrated
Next-gen retail planogram apps prioritize playing nice with other business systems, such as payroll, inventory, expense reporting, and so on. The right integrations with other software can help individual departments and the entire business stay in synch. In connecting to inventory for example, team members can facilitate returns in-store that are then accurately updated to internal systems.
As a solution committed to solving big retail problems, Movista integrates to a variety of critical business solutions including SAP, Netsuite, and Salesforce. This level of connection provides unprecedented data management and accuracy around areas like inventory and target stock levels. If retail inventory is low or out-of-stock, store teams know right away as does the supply chain department.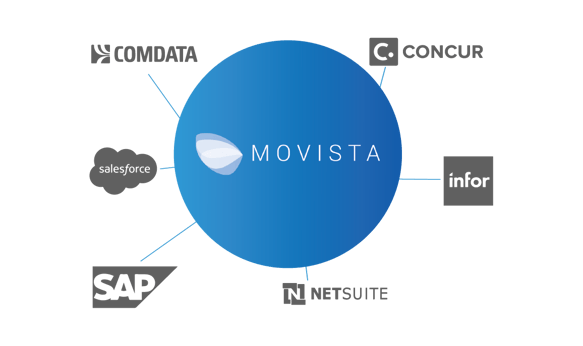 We are the single retail execution solution
Imagine a single solution to achieve exceptional retail execution. Now imagine the solution in the palm of a hand and connected to in-store and external teams. That's exactly what Movista offers. A single solution to manage people, places and processes in-store or from headquarters.
From inventory ordering to workforce management, Movista offers an elevated approach to retail execution and monitoring.
Let us show you how. Connect with us to learn more or schedule a demo today.