Retail Excellence
How To Build Your Retail Store Audit Checklist And Process

To stay competitive in today's rapidly evolving retail industry, teams need to conduct routine retail audits and innovate around insights from their in-store data. The best retail store audit checklists and processes relay essential information that retail managers need to see how products are performing. Upleveled, they provide insight into emerging trends or consumer behaviors and provide key learning opportunities for teams.
While many retail teams today rely on retail execution software to digitally conduct audits, there's still a lot of value in the process development step before getting into the field. makes large-scale retail audit tasks easier. Here we share our insights for building retail store audit checklists, examples of best-in-class audit processes, and more. Ready for excellence? Let's get started.
How to build a retail store audit process
Retail store audits provide managers the hard data they need to ensure operations are running smoothly. Unfortunately, this process can become a point of contention, especially between retail execution managers and team members who perform the audits.
Without establishing the "why," many teams lack the context on why retail audits are so important to company success.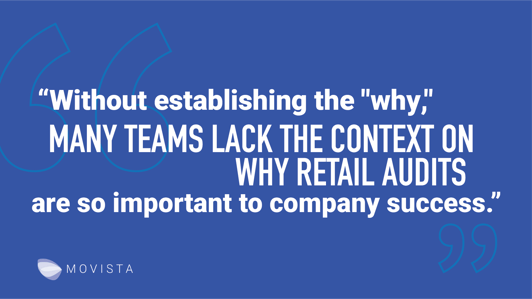 Audits shouldn't be a test or means to grade employees—they provide crucial historical data for the entire team. The right data can drive improvements that have a lasting impact on the company's revenue. Christopher McDonald, in Loss Prevention Magazine, outlines how retail managers can build an audit process that focuses on empowering employees by giving them context versus controlling their outputs.
It's an important read that focuses on key techniques for building your retail audit strategy, such as:
Building an audit checklist that is aligned around clear company goals (aim for three, if possible)
Creating a straightforward series of questions and checklists that are easy to answer for employees on the ground
Proactively getting feedback from teams on what's working (and not working) in your audit process
Using insights from your audits to inform employee training and goal-setting
At the end of the day, a retail store audit checklist should support an organization's goals, while also providing plenty of teaching moments for a team.
Where to start with a retail store audit checklist
Those are the principles behind a great retail store audit checklist. Now it's time to create the practical framework.
Whether teams are working on a grocery store audit checklist or another type of retail audit, here are three crucial areas to evaluate.
Product location and pricing
Location is everything, especially in retail. Failed execution of planograms or misunderstandings with a retail store manager can quickly lead to revenue issues. This is why it's so important to analyze product location and pricing during audits.
In general, teams should answer questions like:
Are products located on the end caps? Or toward the end or middle of the aisle?
Is shelf location eye-level, top-level, stoop-level, lower shelf, or bottom shelf?
Can customers easily notice the product?
Are products correctly priced with accurate shelf tags?
Is a price missing?
Are promotions marked correctly?
Quick Tip:

Movista's photo verification technology allows field reps to snap photos of placement, shelf tags, pricing information, and more. Photos are tagged with time, date, location and other metadata so reviewers have an instant look into the store.
Inventory
Next up, retail teams should take stock of the current inventory situation. This guarantees that there is plenty of product available for customers.
Team members should answer questions like:
Were products fully faced without gaps?
How many products were on the shelf?
What quantities are available in the stockroom to replenish shelves when necessary?
Are there products with backup in the stockroom?
How many replacements have been ordered?
Were any products missing from the shelves?
With Movista, retail teams can also fill in custom tracking fields that track data like SKU number and quantity field for each audit question.
Overall impressions
General store impressions can have a significant impact on how well a product performs. In addition to noting the type of location, teams should record the following:
Were there any unappealing areas of the store?
Were aisles, floors, or shelves dirty or seemingly neglected?
Did products appear to be tidy, well-arranged, and maintained?
On a scale of 1-10 (with 10 being perfect), what rating would you provide for the overall appearance of the store and products?
Did you see anything else that would cause concern?
Beyond the overall impressions, add notes about conversations with store staff members. For example, if spacing, orders, and other important issues were discussed, there should be a place for retail teams to add this information.
A retail store audit checklist PDF
It takes time and effort to negotiate product placement within a store. Even after the deal is done, the work is just beginning! Maintaining the right visibility to drive sales is essential, which is why a retail store audit checklist is so important. We've developed a checklist so retail teams have a clear starting point.
Beyond checklists, Movista solves the disconnect between retail teams and execution managers. It's your next-gen retail audit process that plug audit teams on the ground directly into product strategy, real-time inventory management, and more.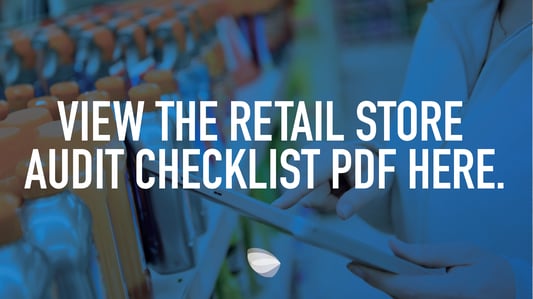 Flawless execution for retail audits
It's time to get an edge on the competition with flawless retail execution. A comprehensive retail store audit software is the answer. Movista can help you turn the "why" of your audit process into the "how" across teams and locations.
With Movista, retail managers get instant visibility and access to the following features (and more):
Photo verification
Signature responses
Real-time task management
Advanced analytics and business intelligence
Territory and field management
Item management tools to place orders or issue returns
File sharing for planogram examples, videos, and more
Movista is a unified, cloud-based retail workforce management platform that can help you improve the in-store experience, grow sales, and boost productivity.
Learn more by reading through our Quick Retail Execution Checklist or schedule a demo!