Movista News + Culture
STEM: Growing the Balanced Workforce of the Future

In today's world, full of new technology and automation, the demand for people in STEM (Science, Technology, Engineering, and Mathematics) is higher than ever. According to Modis, the IT workforce is developing quickly, and the demand for technology professionals is rising. Modis predicts that there will be 488,550 new technology jobs by 2024. As this field continues to grow and prosper, we need to find and recruit more STEM specialists.
Unfortunately, there is still a big gender gap in the field. With a line of work that has had a reputation to be predominately men, getting women involved seems to be a challenge, even today. Only 21% of executives in tech are women. This means that nearly 80% of technology jobs are held by men. Also, in a study done by ISACA (Information Systems Audit and Control Association), they found that 9 out of 10 women are concerned about the low number of women in the tech industry. Clearly, STEM jobs are still being dominated by men. We will dive deeper to discover why this is, the struggles women in the field face, and what we can do to combat this issue.
One of the biggest challenges related to closing this gender gap is simply encouraging women to take the first step; we need them to pursue STEM degrees with a sense of confidence that they can and will succeed in these fields. Around 74% of young girls express an interest in STEM fields and computer science. However, women earn only 28% of science and engineering degrees, and fewer than 1 in 5 computer science graduates are women. Universities can address this issue by implementing efforts to encourage more women to pursue STEM degrees, hiring more female STEM professors, and by creating more STEM organizations where women can connect and build their network.
According to Isaca.org, the top 5 barriers women in technology experience are:
1. Lack of mentors
2. Lack of female role models in the field
3. Gender bias in the workplace
4. Unequal growth opportunities compared to men
5. Unequal pay for the same skills
Females that don't have other females to look up to in the field are less likely to want to stay in that line of work. 8 in 10 women who work in technology report that their superiors are men. In a field where men have the most power, women often find themselves discouraged to get involved and stay involved. 27% of women say that they often or always experience gender bias, and 43% of women report that their male colleagues are being paid more without reason. If women aren't respected and seen as valuable as their male colleagues, this discourages other women from going into STEM.
"Most girls are taught to avoid failure and risk. To smile pretty, play it safe, get all A's. Boys, on the other hand, are taught to play rough, swing high, crawl to the top of the monkey bars and then jump off head first. By the time they're adults and whether they're negotiating a raise or even asking someone out on a date, men are habituated to take risk after risk. They're rewarded for it. It's often said in Silicon Valley that no one even takes you seriously unless you've had two failed startups. In other words, we're raising our girls to be perfect and we're raising our boys to be brave."

-Reshma Saujani. Founder and CEO of Girls Who Code.
Research has shown that men apply for a job when they meet nearly 60% of the qualifications, but women only apply if they believe they meet 100% of them. The bottom line is we, as a society, must come together and give women the reassurance and support they need to pursue STEM careers. We should encourage women to apply for jobs they are interested in, even if they don't meet 100% of the requirements. Women need to know that it is okay to not be perfect and that failure IS okay - it's how we learn. And as a group, we need to identify and address discrimination when we see it. Although the gender gap still exists, many companies have already started implemented initiatives to combat it.
IBM created programs to encourage diversity and inclusion in the work force. They host the "EXCITE" camp which encourages young women to pursue careers in technology. In 2017,

IBM

was acknowledged for having the greatest year-over-year improvement in the representation of women technologists at senior and executive levels.
JB Hunt has started the GROW program – Growing & Retaining Outstanding Women.
There is a mentoring circle/program called Million Women Mentors where you can sign up online and the system will pair you up with a mentee near you and in your industry.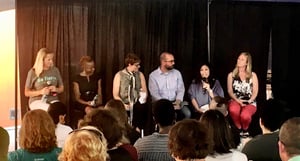 In our local Northwest Arkansas community, a networking group has been established by women in technology. Their first event, held on June 13th, included speakers from Walmart, Tyson, JBHunt, IBM, Infosys, RevUnit, and other local organizations. During this event, the speakers addressed the roadblocks they have observed (either personally or towards their female colleagues) working in technology, the initiatives their companies have started to support women, and what still needs to be done. It is groups like this which will make a difference and encourage women to seek STEM careers.
Although we have started to make positive strides, there's still more room for progress. We can all play a part, from universities to businesses to local communities, we must come together to tackle this gender gap head-on. It's important to educate women about the issues they may face professionally, and how they can overcome these issues.
Here at Movista, our Co-Founder, April Seggebruch, has always believed that it's important for empowered women to empower other women, so we're committed to furthering our support of STEM efforts, giving women in our community the reinforcement they need to find success in their line of work.
Want to learn more? Check out our podcast, The Stanish Inquisition, where our CEO, Stan Zylowski, talks with other leaders about all things retail.