Case Studies
HOW ONE OF THE WORLD'S FAVORITE BEVERAGE BRANDS LEVERAGED REAL-TIME DATA TO IMPROVE FIELD TEAM PRODUCTIVITY
---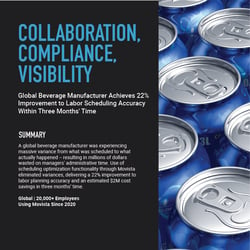 A global beverage manufacturer traded manual processes for real-time automation with Movista's scheduling and optimization engine, enabling them to radically reduce costs in only three months.

The results?
Field adherence to schedules improved by 22% and management no longer needed to spend valuable time manually updating information.
The brand saved $2M in labor costs in one quarter.