Analyst Insights
---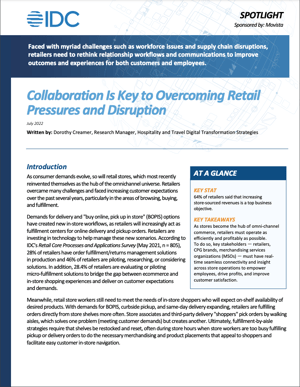 As consumer demands evolve, so will retail stores, which most recently reinvented themselves as the hub of the omnichannel universe. Retailers overcame many challenges and faced increasing customer expectations over the past several years, particularly in the areas of browsing, buying, and fulfillment.

According to recent IDC research, "64% of retailers said that increasing store-sourced revenues is a top business objective.


For these retailers focused on growing in-store profitability, on-shelf availability (OSA), merchandising, and product placement are key sales drivers for their most profitable items and ensure that high-demand items are easily located and in stock. When organizations can share in-store, real-time data with their store workers as well as their vendors, brands, and merchandising services organizations (MSOs), all parties can collaborate on solutions and best courses of action.
Within this brief, key collaboration criteria for the future of retail is presented and supported by IDC Research. Dorothy Creamer, Research Manager, IDC Retail Insights serves as contributing author.