Solution Sheets
---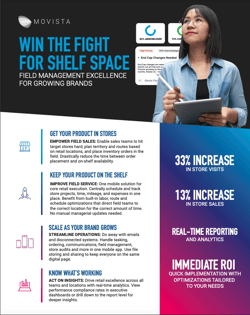 WIN THE FIGHT FOR SHELF SPACE
Field management excellence for growing brands.
Enable sales teams to hit target stores hard, plan territory and routes based on retail locations, and place inventory orders in the field. Drastically reduce the time between order placement and on-shelf availability.
One mobile solution for core retail execution. Centrally schedule and track store projects, time, mileage, and expenses in one place. Benefit from built-in labor, route and schedule optimizations that direct field teams to the correct location for the correct amount of time. No manual managerial updates needed.