Case Studies
HOW A LEADING MERCHANDISING SERVICE ORGANIZATION OPTIMIZED IN-STORE WORK
---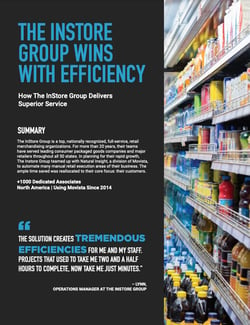 For more than 20 years, The InStore Group has been serving major retailers through all 50 states with their field team of over 1000 members. When they were preparing to scale, they needed to make a strategic decision surrounding their workforce management processes and systems.

Since 2014, they've trusted the Movista solution to:
Drive associate productivity, reducing planning time from 2.5 hours to 5 minutes.

Oversee project management across their entire team across the U.S.

Access real-time, retail performance reporting without any email requests.
Setting up projects now takes 3% of the time it used to. All done in the single Movista solution.