Movista News + Culture
A New Chapter for an Arkansas Success Story
---
---
What began as an academic exercise for two MBA candidates at the University of Arkansas developed into a rapidly scaling Bentonville-based business called Movista. Now the burgeoning enterprise is hungry for talent and finding a ready pool of retail veterans to fill the void.
A commitment to innovation and a company culture that emphasizes constant hustle are at the core of Movista's DNA. The Bentonville-based company has grown from its beginnings in 2010, with two co-founders and a handful of developers to their current team of 40 employees. Providing flexibility to lever the scale of their offerings up or down to meet the clients' needs and short or long-term goals is just one of many strengths exhibited this team. Currently, their focus is on North American Retail clients but soon they plan expansion across business verticals and geographies.
With rapid and continued growth comes great responsibility – and as new clients join their roster, it has become an important focus to ensure clients will continue to receive the level of excellence in care and customer service that they've come to expect from this mobile workforce enablement platform team. To that end, Movista has been strategically recruiting talent who will add even more breadth and depth to their leadership portfolio.
Jez Green (left) and Greg Slone (right)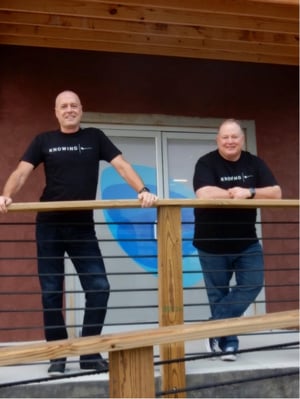 Most recently, the addition of Jez Green as Vice President of Customer Success and Greg Slone as a Key Account Manager will help further this strategy. With these two hires alone, Movista benefits from more than 40 years of combined experience in retail operations, project management, Information systems, customer experience management multi-channel and retail logistics with companies who have a reputation for excellence.
For their part, Green and Slone are finding Movista shares much, but not all, with their previous environments. "My whole career has been about the customer," said Green. "Movista is passionate about service, as well, so that felt like a great fit for me. Because we are a growth company, things move at light speed here. Blink and you could miss it." Slone added his own comparison, "The customer is number one and the radical growth trajectory reminds me of earlier years. It's just plain fun to come to work."
Stan Zylowski, President and Co-Founder, says "We're emphasizing expansion of our leadership team as commitment to outstanding service and continued growth. We're proactively adding top talent to a business that we started with a legacy of retail management experience and, by making that core talent investment, we're following our blueprint and building a solid business powerhouse."
Zylowski summarized the past and future by saying "We are proud of what the team has accomplished and at the same time know we are just scratching the surface. Adding brilliant people who understand how to help our customers win is a key part of our strategy, so we will keep hiring known winners and passionate leaders."

About Movista
Founded in Bentonville, Arkansas, in 2010 by Stan Zylowski and April Seggebruch, Movista LLC (www.movista.com) is a Software as a Service company made up of retail veterans, managers, leaders and innovators. The team at Movista has experienced working in the field firsthand, so they understand the pain points involved with the distributed workforce model. They constantly strive to create technical solutions and efficiencies that benefit clients by helping to drive rapid sales increases while driving down costs. Movista's platform is a field workforce connectivity solution, geared toward businesses who depend on a mobile workforce to deliver on their strategies for success. Movista currently employs 40 people, all in the United States and primarily in Bentonville, AR.

Media Contact
For more information, please contact Jennifer Mabie, Director of Communications,
at 479-530-3693 or email at jennifer@movista.com