Movista News + Culture
Movista Founders' Week: Reflecting on a Growth Year

In 2010, our co-founders launched their startup as a small 2-person operation. What a difference 9 years makes! In what our CEO likes to call a "twelve year overnight success" story, Movista has now grown into a company with more than 70 employees, headquartered in an office that's a 15,000-square foot renovated ice house. And we strive to make it literally and figuratively the coolest office in town. If you've seen the billboard, you know that, "It's code in here. Bring a sweater."
RECONNECTING IRL:
Last week, we played host to our full Movista team here in Bentonville to celebrate our annual Founders' Week. It's one of the two times each year we're able to gather all employees in one place - including our remote teams from far and wide. (We now have employees stationed in places like Seattle, Kansas City, Baton Rouge, Boston and more.) It's a great chance for us to refocus and get everyone aligned to the same company goals, as well as getting a view into what our counterparts are working on, and bonding with each other a little while we have fun, food and beverages between the hard work.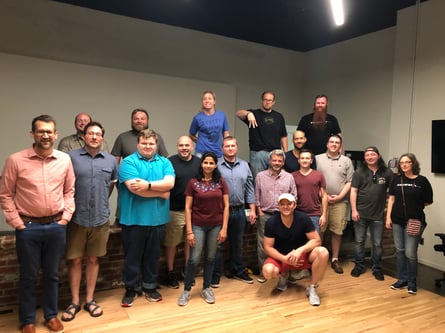 PHOTO: Recognizing the group of Movista's Founding Employees
We've done a LOT of growing up this past year: as of Founders' Day last year, we had around 40 employees working for Movista. Since then, we secured series A capital funding - which helped provide us with resources that allowed us to step up our efforts toward talent acquisition, as well as building out our infrastructure to support our vision for future capabilities and feature sets. This growth is indicative of the hustle and heart Movista puts into everything we do. We're constantly striving to improve and expand our product in ways that continue making work at retail easier... and thus, more productive/cost-effective for our clients.
FOCUS ON FORWARD PROGRESS:
Breakout work sessions helped teams connect while providing some serious face time with each other on some of our client work. We also spent a packed morning in all-hands meetings, where each business unit presented what their teams have done and plan to do the remainder of this year, as well as goals they're working toward - helping with project transparency and keeping team members clearly aligned on how all work ladders up to the company's overall strategy.
When everyone is so busy with heads-down in their own "swim lanes" it's nice to have a chance to share what problems we're solving and what successes we've had along the way.
PHOTO: The team is STOKED for Founders' Week Business Presentations
During business updates portion of the meeting our CEO, Stan Zylowski, shared a favorite quote of his, which speaks to our passion for the pursuit of excellence and finding a better way forward. Which was to say, "Don't tell me the sky's the limit, when there are footprints on the moon."
"My very first Founders' Week served as an awesome opportunity to recenter my daily mission into the fold of the company's mission. Having everyone gathered together in one place to connect and re-calibrate was so refreshing! We had a lot of fun and good food, too, which never hurts," said Shelby, Movista's Marketing Coordinator.
AWARD-WINNING TALENT:
This is also the time of year, when our co-founders and leadership team announce our annual award winners. Whether they are recognized for their superior teamwork skills, customer-focused service, innovations to grow the business or are MVP/Employee of the Year, you can be sure the winners have worked their behinds off putting Movista on the map as the best product for retail - providing companies with all the tools they need - in one place - to excel at shelf with their retail execution.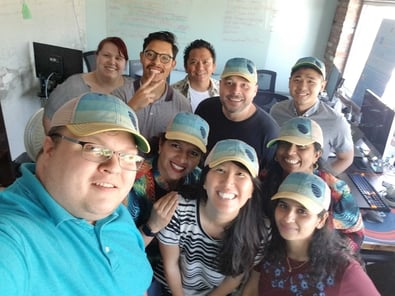 PHOTO: Our QA Team Sporting Movista Swag
TEAM BONDING WITHOUT THE TRUST FALLS:
Along with working hard, we play harder. We love to have fun, so after each full day of team breakout sessions and meetings, we sent everyone out to have a little excitement before dinner. We arranged golf outings, axe throwing and even a suite at a minor league baseball game. Plus the main event - a picnic dinner with games galore and lots of time to catch up with coworkers and mingle with their significant others. We rounded out the week by giving back to the community, chaperoning for kids at a local middle school track and field day event. Whew... I'm exhausted just typing about it.
As the week came to a close and we bid our remote team, "bye for now," we had a hefty checklist for ourselves to finish out the year strong. But while we may have set some pretty audacious goals, we have the right talent in place to tackle it all. It's going to be exciting to meet back up with everyone around Christmas time to see how much we were able to achieve toward our pie-in-the-sky ideas... and where we planted flags to mark what we conquered.
HASTA MOVISTA:
As we get back into the swing of a "normal" software company work week, we're equipped with our mission and refreshed with a rocket-powered intensity that will carry us through the rest of this year. Wish us luck and watch for new footprints on the moon.