Retail Excellence
What Is Retail Merchandising Software? Your Guide

Retail merchandising software is revolutionary for retail leaders. As a tool used by workforces, retail merchandising software allows retail teams to create positive shopping experiences, increasing sales through well-conceived and executed store layout, manage product pricing, and execute displays. From analytics to audits, this is how the right software can help brands thrive.
What is retail merchandising software?
Retail merchandising software is a solution to help retailers:
More accurately track products
Price them appropriately
Display them in the best locations
Communicate effectively among staff across multiple locations
Often, retail merchandising software incorporates functionality for retail workforce management. Often, retail merchandising software helps retail teams easily distribute tasks with push notifications, then track time and verify that the job is done properly.
So what types of problems does retail merchandising software solve?
Allows for easy scheduling and project tracking
Replaces spreadsheets with inaccurate data about stock and its location with precise inventory details
Improves planogram compliance across team members
Can connect with other systems to accurately tracks past sales performance
Retail merchandising software helps retailers and managers deliver the best possible store experience for guests from team management to inventory fulfillment.
How does retail merchandising software work?
Retail merchandising software directs the flow of work from start to finish to create an enhanced consumer experience and a corresponding increase in revenue.
Consider the following hypothetical workflow, enhanced with retail merchandising software.
Supports strategy
The best retail merchandising software works alongside a merchandising strategy. When selecting retail merchandising software, it is important to consider what your team needs for each day, as well as what may be needed later. Consider tools that support teams execute in the store and offer reporting and analysis. This way, you have the ability to not only do the merchandising work, but measure the outcomes.
For example, our client Nintendo had been using an internal tool to execute on their product launches for close to 15 years. This system was increasingly difficult to maintain and didn't allow them to easily communicate between field teams and the corporate office.
They turned to our cloud-based retail execution and workforce management software, knowing that this increased transparency and collaboration would support store execution projects that delighted customers.
With a 100% adoption rate across teams, Nintendo successfully installed 6,500 interactive retail kiosks in a six-week time frame before a major launch. Due to this strategic shift, their teams continue to benefit from increased support, customers love the amazing retail experiences, and Nintendo's retail leaders have improved their ability to tap into on-the-ground knowledge of current work.
Execution
Retail execution software makes it easy to send the vision to teams. This allows them to divide tasks and work on store-specific tasks.
As our Nintendo case study illustrates, retail merchandising software also works to improve communication. Teams can easily communicate with leadership and other team members to ask questions and get clarity on the vision and strategy.
Coordination
When tasks are sent to teams for execution, third-party vendors get the same workflow notifications. This allows a brand to seamlessly integrate different stakeholders in a single vision, as well as proper and timely execution of the initial strategy.
Real-time tracking
Next, retail merchandising software makes it easy for teams to check off tasks as they are completed. This type of real-time insight into what's happening in the field helps retailers get a better understanding of how each team (and team member) is progressing. It also allows for adjustments as needed.
Analysis
Once the strategy becomes real, a retail merchandising software can be used to gather and analyze performance data. Managers can easily conduct retail audits while tracking real-time sales and analyzing workflows.
Retail merchandising software also allows managers to identify missteps in the workforce, such as areas where labor scheduling can be streamlined or improved for more effective, efficient execution.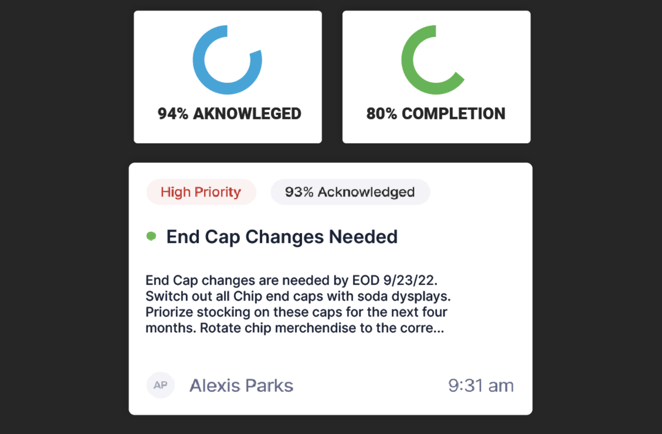 Why to upgrade your store
For managers across multiple locations, upgrading a brand's retail merchandising tools ensures excellence and uniformity across stores. It also allows for a consistent consumer experience while taking past sales performance into account.
In addition to making retail strategy execution flawless across locations, retail merchandising software address issues with time tracking and employee scheduling. Managers will be able to accurately staff each location and push time-sensitive tasks where they are needed most.
The future of retail merchandising software
Movista's retail merchandising software has the tools for modern retailers' execution and workforce management needs.
Scheduling and workforce optimization
Whether there is one location or a hundred, retail leaders need tools to make sure they have people when (and where) they need them. Movista's retail workforce management tools allow managers to accurately staff each location, adjusting as needed in real-time.
Task audits
Audit task completion and inventory in the palm of a hand with Movista's robust cloud-based platform.
Time and mileage tracking
Moving between stores? Sick of trying to track receipts and odometers for mileage tracking and reimbursement? Want more accurate assessments of time-on-task for employees and their stores? We've got the app for that, too.
Enhanced communications tools
We know that connected teams lead to consistent execution. Movista's dedicated support for communications means no more missed signals. Movista also makes mobile orders and returns pain-free, and includes territory and field management tools tailored to the needs of different locations.
Analytics tools
Looking to see how a location is doing historically, or want to connect data from sales and operations? Want more insights into how to solve problems? Use Movista's analytics tools as a guide, with comprehensive, actionable reports.
Merchandising is easier with Movista
Why are innovative retail leaders switching to Movista's smart solutions? The proof is in the results:
One supercenter chain store reported a jump from 66% to 98.5% in on-time execution (and a 500% increase in project count)
That same chain decreased management expenses in the corresponding time frame
Field teams report covering 33% more retail locations each day with Movista
For 360° retail execution on one intelligent retail merchandising software platform, contact Movista today to schedule a demo.