Retail Excellence
Revolutionize Your Workflow With Store Execution Software

At the end of the day, a retail leader's primary goal is simple: sell products and keep customers coming back for more. Store execution software makes reaching that goal easier than ever, and efficiently for every team member and task. This post covers some of the features that make retail execution software a must-have industry trend.
What is store execution software?
Retail is a competitive industry, regardless of the product being sold. Whether a leader oversees 12 or 200 locations, store execution software provides seamless management tools that unite a disconnected workforce. It can help with:
Territory management and scheduling
Time and mileage tracking
Document and file sharing
Real-time project status and work activities
Retail audits
Item management tools for orders and returns
Photo verification for tasks completed
Training and resource allocation
Advanced analytics and business intelligence
All of these features allow for better visibility of what's happening in the field. And improving this insight leads to meaningful retail collaboration and better compliance. In fact, Movista's store execution software can be tied to a 33% lift in employee productivity and a rate of 98.5% successful on-time project completion.
Better productivity leads to opportunity, which is why Movista users report a 500% increase in project count. That's a serious boost, but the principle is simple. When things are running smoothly, teams can jump seamlessly and intuitively from project to project.
Manage every step with store execution software
Store execution software allows for success through oversight. Stop workflow disruptions before they happen! Here's a peek at how it all becomes possible when a team invests in retail execution management software.
Strategize
Studies show that brands have eight seconds or less to make an impression on consumers. With this statistic in mind, retail strategy becomes more important than ever! Once retail leaders develop a winning merchandising plan, it's important to make sure it comes to fruition.
Store execution software allows store leaders to run ideas by fellow managers for collaboration or get tasks right to the teams in the field. From planograms to supporting documents, all of the information necessary will be right there for those teams.
Communicate
Communication is key to getting the job done right. After a manager uploads a plan, the team can communicate with leadership and other team members easily with store execution software. Questions and concerns can be addressed right away, leaving little room for error when it comes time for execution. Those same tasks can also be sent to third-party vendors as well.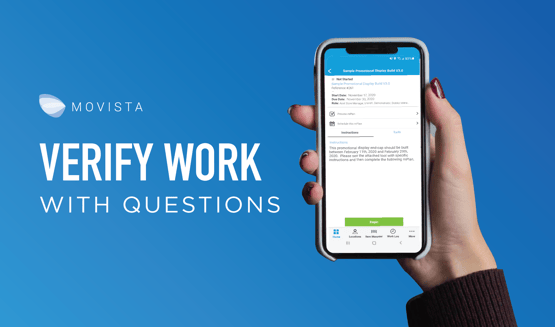 Looking for automated communication? GPS tools can help managers send tasks to geofenced employees at specific locations. The ultimate "set it and forget it" capability for busy managers.
Execute
Take it all in with features that allow a retail leader to become omnipresent. Photo verification provides real-time proof that a job has been completed. Plus, managers have the ability to provide feedback before the team member walks away from a display.
With retail execution management software, store managers and brand leadership can get the same level of insight as if they were standing right there. With this, a manager can always know whether a task is complete or needs a little extra attention. These insights allow for seamless strategy execution from start to finish.
Analyze
Even when the first task is done, there's still more to do. Robust store execution software allows leaders to run retail store audits using key performance indicators (KPIs) to see what's working and what's not.
With one shared platform for data and goal setting, teams can plan around better optimization in the future.
It's time to upgrade your process
At Movista, we understand what you're up against in today's world of retail. We are committed to simplifying the systems and processes necessary to succeed in the retail industry. With our integrated store execution software, you're empowered to remain "in the know" at all times.
What can our platform do for you?
First, we help you replace administrative tasks with innovative technology. Your team can move from store to store, completing projects with accuracy, thanks to Movista. Why? Because they have the tools they need right in the palm of their hand!
From planograms to detailed documents, it's easy to get the job done right when you have guidance. Our clients have logged nearly 20 million geo-tagged photos that provide accountability right from the store. As a retail leader, you'll feel as if you're right there with your employees.
Further, many of our clients notice an improvement in store relationships as they improve their processes. This can lead to more opportunities and ways to uplevel efficiency. It's no wonder Movista has helped managers successfully manage more than five million location visits. Plus, Movista allows for dozens of API integrations that further streamline your workflow. From ADP to Kronos, unlock management modules that help everyone stay organized.
Are you ready to uplevel your strategy? Movista can lead the way with 360° retail execution wrapped up in one intelligent platform. Schedule a Movista demo to find out more.