Retail Excellence
9 Features To Look For In Merchandising Software Solutions

Revenue-driving retail displays don't design and execute themselves. Synching back-end planning and front-end execution, merchandising software solutions help to effortlessly pull a final vision together. Here are the must-have merchandising software features. When paired with retail leaders and top-performing teams, these features help turn store browsers into buyers.
What does merchandising software do?
Visual merchandising software allows brands to showcase their products in the most effective, visually appealing way for best results. It does that by providing both store retailers and vendors with integrated tools they need to:
Effortlessly plan and manage merchandising tasks
Optimize efficiency based on historical performance data
Collaborate across teams, whether that's in-store or third-party vendors
The best merchandising tools not only help teams create stunning displays – they also keep them on time, on track, and on budget with scheduling solutions and tracking tools. These are their major benefits.
1. Effortless planning
Retailers have eight seconds or less to make an impression before consumers walk away.
Unfortunately, the line between good and bad visual merchandising sometimes comes down to a great plan executed poorly. Merchandising software solutions feature built-in, effortless planning tools to avoid these mistakes.
Look for apps that allow easy sharing of retail planograms as PDFs or photos. These can outline a plan clearly, so teams know exactly how to execute on a manager's visual merchandising strategy.
2. Mobile task management
Mobile task management means no one is chained to their desktop. The entire retail space becomes easily accessible with an app that fits in the palm of a hand. Employees can get to work, right from their mobile device, with all of the tools they need.
Teams can jump into clearly defined tasks, access planograms, and check off their progress. Assign tasks to specific store locations, specific roles in that location, and even specific employees.
For example, a merchandising software like Movista effortlessly enables teams to access tasks, managers to check on status, and leaders to tap into real-time insights from a user-friendly mobile interface.
3. Optimization insights for better efficiency
With tools that track real-time trends in time-on-task, mileage, and work completed, merchandising software solutions help retail leaders highlight what's working well out in the field – and what needs to be tweaked. The best merchandising software solutions take these data points and deliver real-time optimizations to processes such as scheduling. This next-level of automation eliminates manual updating so teams can be productive and efficient.
4. Simple photo sharing
Need a visual snapshot of what's being done in a team's stores? A photo gallery with easy sharing options allows teams in the field to send photos on the ground to retail leaders, for auditing, clarification, questions, and verification of work done.
For multiple locations that need a consistent merchandising design, visual merchandising software can ensure that the look translates, no matter where it is.
5. Real-time transparency
Looking for the real-time status of progress, questions, and work activities in general? In addition to instant photo sharing, merchandising software solutions offer mobile signature verifications, file sharing, and GPS-enabled locators to get a high-level (and drilled down) view of what's happening right now.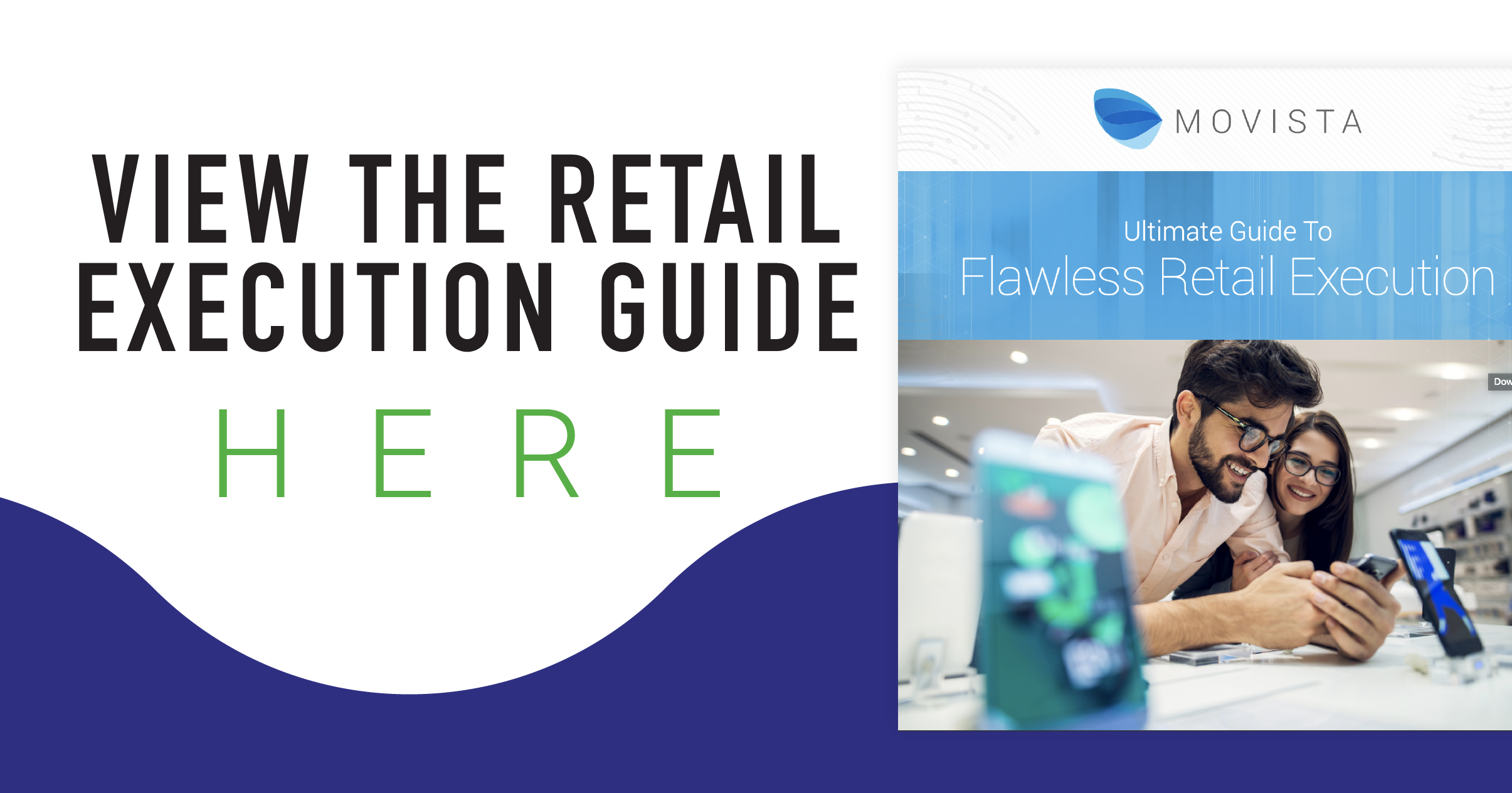 6. Collaboration across teams
The best retail execution management tools connect disparate teams with large-scale collaboration, across teams, stores, territories, and individual team members, no matter where they are. Send files, chat, and assign tasks — both in the team, or with vendors and other third parties.
Creating retail collaboration between team members and stores also means controlling the message and making sure it was received. No more missed signals (or opportunities) with real-time message confirmation.
If communication is the key, Movista's got retail execution on lock.
7. Planogram compliance
Spending time and money on innovative displays is a waste of both if planogram compliance is low. In fact, retailers lose millions of dollars annually due to non-compliant planograms.
While creating planograms is done with its own specialized software, software like Movista integrates these planograms into a team's workflow so they can create eye-popping (and bottom line saving) merchandising displays. Then, visual merchandising software allow teams to perform audits in real time.
8. Data that tells a story
Story-telling data tools, tailored to the goals of retail leaders, allow brands to focus on what's important.
Better business intelligence supports employees too, connecting in-store and external teams with reporting and business analytics that detail on-the-ground progress towards a brand's KPIs.
9. Time-saving automation
Gone are the paper trails, smudged numbers, and messy hand-written invoices, inventory sheets, and project notes. Fully automated merchandising software solutions come with integrated payroll, project planning, inventory management, and other crucial tools to reduce human error and save time (and money).
Need to deliver project assignments automatically? Automated GPS tools send "hot tasks" to geofenced employees at specific locations for the ultimate in hands-free management.
Movista makes merchandising magic
Movista is the go-to merchandising software solution for retail leaders who want the ease of a mobile-native app with the performance of a finely tuned merchandising machine. Designed for retail spaces of all sizes, Movista pushes tasks to the front-line employees who need them and helps multiple locations share a consistent brand message.
Companies using Movista report over 98% successful on-time completion rates for tasks and a 33% lift in employee productivity. With Movista, retail leaders tap into the power of:
Easy-to-access retail planograms that are interactive and integrated
Time-on-task tracking that improves efficiency across teams
Real-time access to information, from front-line to leadership
Integrations with your other critical business systems, like payroll
One unified platform that allows employees to see their work and managers to see their data
When you're ready to move merchandising mountains, get in touch today to schedule a free demo with Movista!