Industry Insights
Phantom Inventory: The Mystery of Missing Stock


What is phantom inventory?
In the simplest terms, phantom inventory is stock in a database that's not on the shelf. This can be anything from an inaccurate number of items on the shelf to a total out-of-stock situation.
Whether it's a missing product or two or a completely empty shelf, the end result is the same: the number in your accounting system does not match the items on hand in the store.
What causes phantom inventory?
Some of the causes of phantom inventory are those you might expect, but others might be more surprising.
1. Replenishment or receiving errors
The truck pulls to the back of the store, and employees head there with clipboards and pens to take stock and organize products for the shelves. This is a prime opportunity for phantom inventory.
Replenishment or receiving errors occur when products are not properly checked in or accounted for as they first enter the store. Without capable reporting tools, inventory errors become more likely.
2. PRODUCT DAMAGE
Accidents happen, but neglecting to catalog them should not. Employees need to accurately record broken products that are no longer a part of the store's inventory, but this can sometimes be overlooked.
3. Employee theft
It's difficult to talk about, but employee theft costs businesses an average of $50 billion dollars a year. Whether it's a few pens from the breakroom or products from the shelf, theft from within is more common than you may think.
Statistic Brain reports that employee theft accounts for more than 42% of inventory loss. It's one of the biggest and most surprising causes of phantom inventory, and it's critical to address.
4. Customer shoplifting
Shoplifting is another cause of phantom inventory, but it has a smaller impact than employee theft. Statista reports that in 2020, the average cost of customer theft was just over $460 — compare this to the average cost of employee theft at more than double that per incident ($1,550).
5. Imperfect inventory audits
A full-scale retail audit includes a detailed look at products, their prices, and their location in the store. If you aren't using tools with a retail audit checklist, chances are good your results are misleading.
Movista's tools use photo verification to pinpoint each product's location. These can also be helpful in determining where the gaps are in terms of phantom inventory.
6. Inaccurate shelving
Planograms exist for a reason. These simple tools provide consistency across multiple locations and ensure that everything is shelved where it should be. The problem of phantom inventory may just be the lack of an organized system for directing employees in their retail execution.
7. Errors recording sales or returns
Even with POS terminals that record returns and sales, errors can occur through improper processes. Employees may accept a return and then forget to log it properly, or they may authorize an exchange without properly noting the item that was handed to a customer.
Sometimes it's just a matter of mistaking one product for another—this happens frequently in grocery retail with flavored products (e.g., individual yogurts).
In some cases, out-of-date systems are just not accurate enough to accommodate busy locations with a constant stream of sales and returns. Software that is not mobile-first with just-in-time inventory updating won't be as accurate.

How phantom inventory affects retailers
Phantom inventory is not something to take lightly. While it may seem relatively harmless on the surface, it can quickly get out of hand with scale. Avoid these spooky consequences:
a) Lost sales
Any time a customer can't find an item in a store, they are more inclined to go elsewhere than to replace what they are looking for with a different product. These walkouts can cost retailers an estimated 4% in sales annually. If you are a billion-dollar company, this single-digit percentage adds up fast.
Since an estimated 72% of stockouts are a result of faulty ordering or replenishment, keeping excellent track of inventory (and quickly identifying phantom inventory) is key.
B) Inaccurate picture of store performance
Analytics tools are only as good as the information you put into them. With phantom inventory, it's difficult to see exactly how well stores and specific products are performing.
Inaccurate counts across stores can also provide a flawed picture of growth over time and result in imprecise performance forecasts and future planning.
How to detect phantom inventory
Detecting phantom inventory is incredibly challenging. As usual, prevention is better than reaction, but there are ways to detect it.
A) Embrace the mystery
Utilize modern mystery shoppers to check store inventory against recorded stock. They can snap pictures of shelves to check their condition and the level of stock. This can be used to check in and compare visible stock to perpetual inventory totals.
B) Trace a path back to the beginning
Tracking uses the images gathered from either retail audits or mystery shoppers to unwind how the discrepancy occurred. It may be simply that inventory is in the wrong place, or something else might be at play. Either way, retracing the steps from the missing item to its initial appearance in-store can help.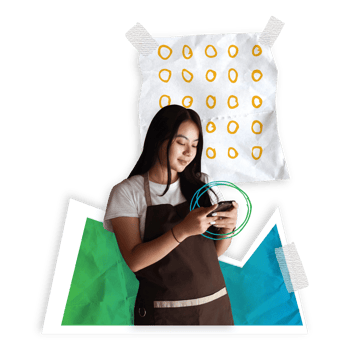 How to reduce phantom inventory
Now, to the most important question: how do you reduce phantom inventory? The answer starts and ends with optimized retail execution.
1. Use the best tools
Movista's retail task management platform provides teams with an accurate count from the beginning. No more paper and pencil.
2. Empower your employees
Our collaborative technology is intuitive and mobile-first. With hundreds of integrations, it is easy to seamlessly transition employees to a future-forward way of working that helps retail teams focus on what's most important: the customer experience.
3. Incentivize excellent work
Retail activity optimization is all about empowering retail teams to do their best work. With on-board communication tools, team leaders can acknowledge employees who are excellent at what they do.
how movista can help
With focused solutions across a broad range of retail organizations, Movista can help you solve the mystery of phantom inventory. Get in touch today for a free demo.